A Digital Care Package for Seniors
Now more than ever, keeping older adults connected to the people and experiences that matter to them is critical. Put the power of connection into their hands with the senior-friendly iN2L tablet. Telehealth capabilities during COVID-19 make it easy to keep scheduled healthcare appointments. Simple video chat, easy photo/video sharing, messaging, and engaging content applications help combat the effects of social isolation.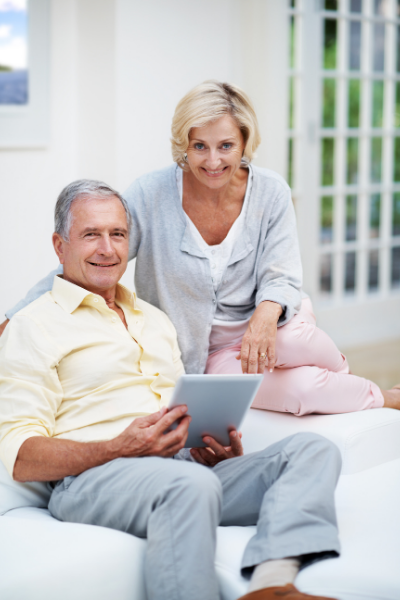 The Benefits of iN2L
- Facilitate Telehealth Visits
During COVID-19, the tablet's simple video chat tool can be used to facilitate telehealth visits. Keep scheduled appointments for primary care, specialist care, urgent care, mental health, nutrition, and therapy on track as virtual video visits. Family members can join from their own devices so they never miss an important conversation about their loved one's health.
- Keep in Touch with Video Chat
Bring families together whenever they want and wherever they are. With a simple tap on the tablet's touch screen, seniors can quickly connect with up to seven other loved ones or friends for video chats.
- Share Special Moments
The tablet makes it easy to stay close and ensure seniors never miss a special moment or memory. Family and friends can easily share photos, videos, and text messages to the tablet from their own smartphones.
- Stay Entertained and Connected
The iN2L tablet is preloaded with over 1,000 pieces of content that are expertly designed and curated just for seniors. Enjoy time spent exploring learning, having fun, nurturing spirituality and improving wellness with games, puzzles, movies, audiobooks and more.
Hear what some of the iN2L clients have to say about how the program positively impacts their communities.
For more information on the iN2L program please email Charlotte Mather-Taylor at