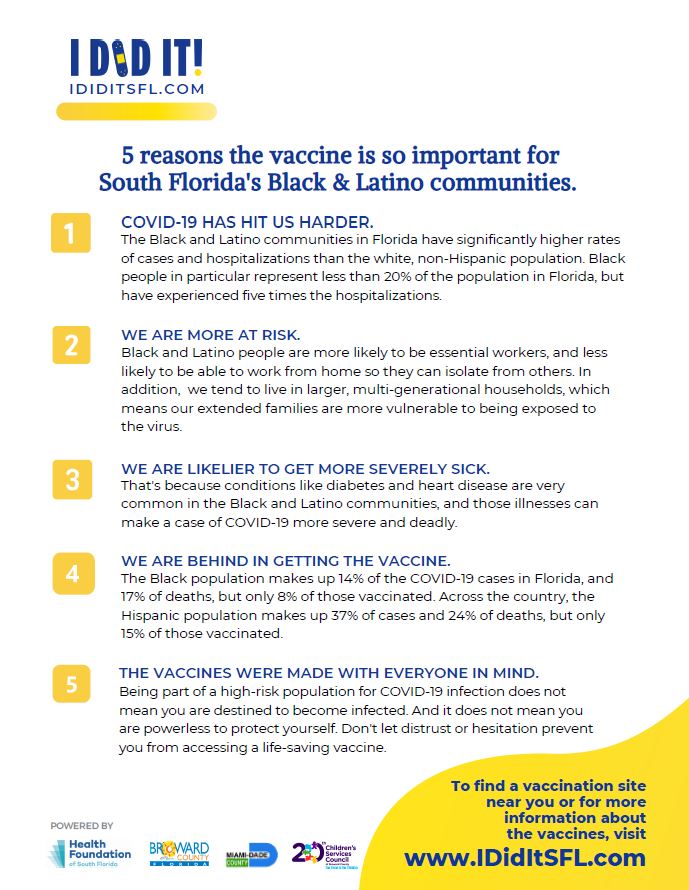 Preparing for a Disaster
What you need to know now about COVID-19 in Florida.
The below links will provide you up to date information on COVID-19
FL Department of Health COVID-19 Website
Center for Disease Control COVID-19 Website
Is Covid-19 similar to the Flu or Common Cold? 
For more information visit: https://www.medicalnewstoday.com/articles/common-cold-vs-covid-19
Have questions about the Vaccine?
Learn More About Vaccinations At www.IDiditSFL.com
COVID-19 Testing Sites (Broward County)
COVID-19 Anxiety Workbook
Disaster Planning Toolkit For People Living With Dementia
General Disaster Preparedness
Being prepared for a disaster is critical. Being properly prepared can reduce fear, anxiety, and the losses that accompany disasters. ... It can also help you to sometimes avoid the danger completely.
The Department's Emergency Coordinating Officer coordinates with the Florida Division of Emergency Management on emergency preparedness issues and post-disaster response. The Department ensures that the Area Agencies on Aging and local service providers have all-hazards Disaster and Continuity of Operations Plans to be implemented during a threat of imminent disaster.
Your safety in a disaster depends heavily on your own actions, and developing a survival plan is the first and most important step.
Below are links to some helpful websites to help you prepare:
Department of Elder Affairs Disaster Preparedness Page
Family Disaster Plan - Review your individual or family disaster plan. Your family or close friends need to know how to locate each other in the event of a disaster.
Disaster Supply Kit - Contains a recommended supply list for you, your family, and your pets.
Disaster Preparedness Guide for Elders:
2019 Disaster Preparedness Guide for Elders - English
2019 Guía de Preparación para Casos de Desastres - Spanish
Additional Useful Links and Information:
AARP Hurricane Preparedness, Response & Resources
Broward County Special Needs Shelter Registration
The Florida Division of Emergency Management, in coordination with Broward County's emergency management agency, developed a registry to allow residents with special needs to register with their local emergency management agency to receive assistance during a disaster.  Learn More about the program. 
 
Vulnerable Population Registry
The Vulnerable Population Registry is a tool that municipalities can use to help evaluate resident needs in their communities and assist in planning a response in an emergency. While registering in the database is not a guarantee that you will be provided services or placed on a priority list for responders, it will help responders be better prepared to meet your needs in a recovery. View Details here.