Homeowner Assistance Fund

Florida Department of Economic Opportunity's Homeowner Assistance Fund may be able to offer relief for mortgage payments and other homeowner expenses such as home energy services, internet, property and/or flood insurance, property taxes, and homeowner or condominium association fees. For more information please visit the Homeowner Assistance Fund Website or you can call 833-987-8997 or email questions to HomeownerAssistanceFund@DEO.MyFlorida.com
 
Additionally, Florida DEO has a Customer Assistance Center in Fort Lauderdale at 2151 NW 6th Street, Fort Lauderdale, FL 33311 open Monday through Friday 9 am - 5 pm and Saturday 9 am - 1 pm.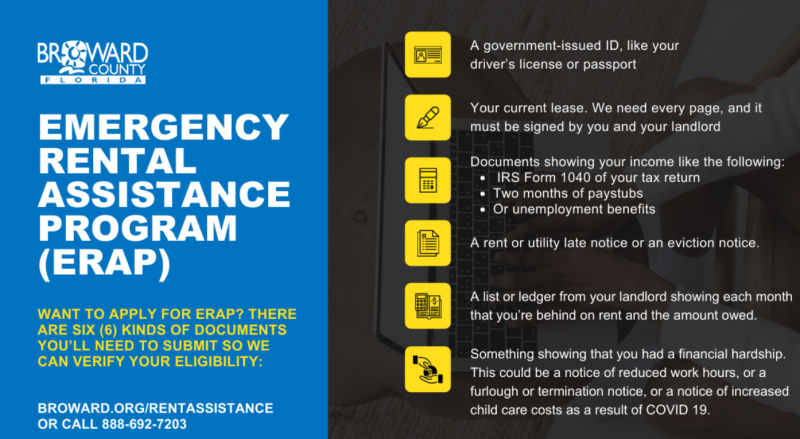 Emergency Rental Assistance Program
Broward County continues to help residents that need assistance with rent through its Emergency Rental Assistance Program (ERAP). This includes those who need help with past-due rent and utilities, relocation expenses, and up to three months of future rent.


Broward County has now expanded the program to cover three months of rent for eligible residents who have experienced a rent increase this year. Residents are encouraged to apply, even if they have applied before and were denied.

To learn more about ERAP assistance program, and how to apply, click here.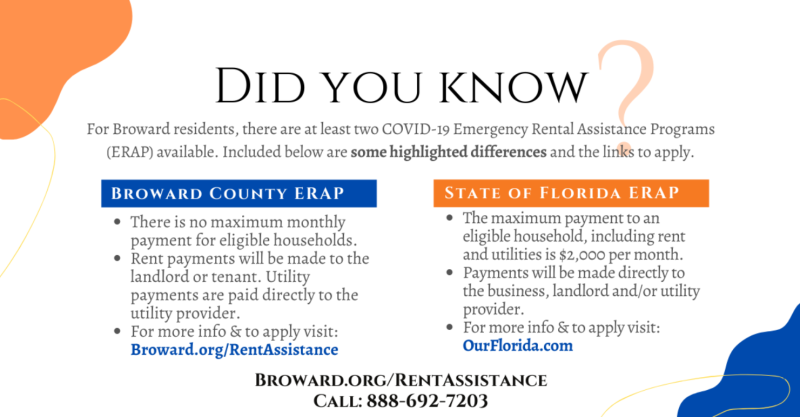 Tenants Bill of Rights
On Tuesday, June 14th, the County Commission voted to create a Tenants Bill of Rights, which will be given to each tenant by their landlord prior to the execution or renewal of an annual residential lease.  This document does not create any new rights, but serves to inform the tenant of the rights and protections that currently apply to them under Florida Law and County Ordinance. This ordinance also requires additional written notice to be provided to the tenant if the landlord is going to assess fees for late payment.
 
This Bill of Rights will include the protection recently passed by the Broward County Commission, where a landlord must provide at least 60 days written notice before the end of an annual lease, if the landlord is proposing a rent increase above 5%.
 
Click here to view the Copy of Proposed Ordinance - Tenant Bill of Rights
Click here to view the Copy of Proposed Ordinance - Notice of rent increase
 
Affordable Rental Assistance
Did you know that the Florida housing Finance Corporation have an online search tool to help renters locate affordable housing?
 
This free resource is available 24/7 and allows you to search for housing that fits your individual needs and income levels. A toll-free, bilingual call center is also available Monday – Friday for those without Internet access.
 
Visit FloridaHousingSearch.org or call 1-877-428-8844 to get started.
https://www.broward.org/FamilySuccess/Pages/HousingOptionsPrograms.aspx
https://www.broward.org/FamilySuccess/Pages/LowIncomeHomeEnergyProgram.aspx
https://www.broward.org/Housing/Pages/Homeowner.aspx